Our values. Our commitments. Our practices.
And our approach to manufacturing.
Some might call it a sustainability policy.
We call it the way we have always done business.
Our sustainability policy is part of our philosophy and our mission.
Experience has taught us that value is more than a number. Real value comes when a product is built to last. When you bring together quality components, tested design, and careful craftsmanship, you get a product that's more than the sum of its parts.
We know you have many options for different products these days. To help you make informed purchasing decisions, we've put together a quick reference guide with a few principles that have guided our business for over 70 years.
We believe that sustainable products are ones built to last, keeping them out of the landfill. (Plus, this keeps money in your pocket because you don't have to continuously replace items as they wear out.)
Of course, given enough time, even well-made items eventually wear out. When they do, we have to weigh the options. Discard? Recycle? Upcycle? Because we use quality materials, the good news is that you will have options.
As for us, although we aren't able to achieve zero waste, we use materials as efficiently as possible. What we can't use, we often donate to a local charity for use in crafts or to our local artists' guild for resale.
If it can be found locally, we use it! While some parts are simply not available nearby, we do the best we can to find as many domestic manufacturers as possible. (Note: If you know of any domestic manufacturers of materials or components that we might use, please let us know! We will be happy to discuss possibilities.)
Sewing machines. Hand cutting tools. Manual assembly and edge finishing. From start to finish, we handcraft every single one of our products, allowing us to adapt to the individual characteristics of our materials and ensure that each item meets our high standard.
Our workplace in the heart of the Finger Lakes is, first and foremost, a workshop. It's where quality materials and components, sourced as locally as possible, are crafted into the robust products we're known for.
We use biodegradable vegetable tanned leathers and cottons for many of our products. Chrome tanned leather, while not fully biodegradable, is much more so than synthetic alternatives.
In my research for this page, I found that there are many different understandings of what it means to be biodegradable. From country to country, even from industry to industry, there seem to be differing definitions. The definition I'm using is the ability to organically decompose; specifically, "capable of being slowly destroyed and broken down into very small parts by natural processes, bacteria, etc.,"1 in a timeframe reasonable for the particular material.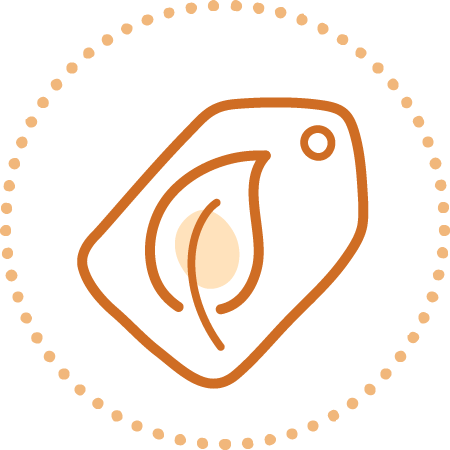 Why make it if you don't need it? We use only enough to get the job done. Nearly all of our shipping packaging can be recycled. No extra packaging means nothing extra to discard. If you would like, keep the product tag for reordering.